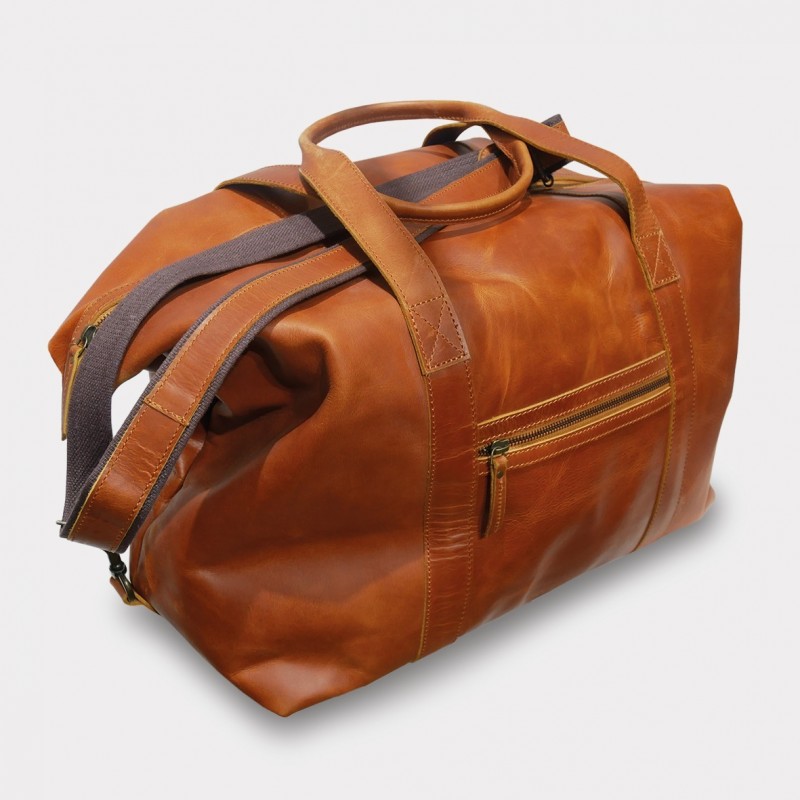  
Sac de voyage "Alexandrie" Taille M
The Alexandria travel bag will accompany you around the world. With its handles and removable strap, it can be carried by hand for a quick grip or as a shoulder bag for a greater comfort. Two snap hooks allow you to fold or unfold the ends of the bag to adjust its capacity and perfect its look. Dimensions in cm (W x H x D): 45x32x22
The Alexandria travel bag will accompany you around the world. With its handles and removable strap, it can be carried by hand for a quick grip or as a shoulder bag for a greater comfort.
Outside, a zipped pocket allows quick access to the passport and mobile phone. Two snap hooks allow the ends of the bag to be folded or unfolded to adjust its capacity and perfect its look. It also has five protective metal feet to put it on the ground without fear. Its buffalo leather makes it very resistant.
The size M corresponds to a cabin bag accepted by all airlines.
Please note: Our leather may have slight markings or colour variations inherent to the skin, which give it a real character. The colour shown in the picture may vary slightly from its actual shade and is therefore not contractual.
Data sheet
Collection

Leather

Leather Type

Buffalo leather

Lining

Waterproof cotton

Dimensions in cm (W x H x E)

Compartment (s)

Interior compartment (s)

Zipper

Closing type "zipper"

Compatibility paper sizes

Till A4+ (240x320mm)